A Reusable Filtration Bottle to solve drinking water problem while traveling & Commuting: Electric Filter Bottle
Motivation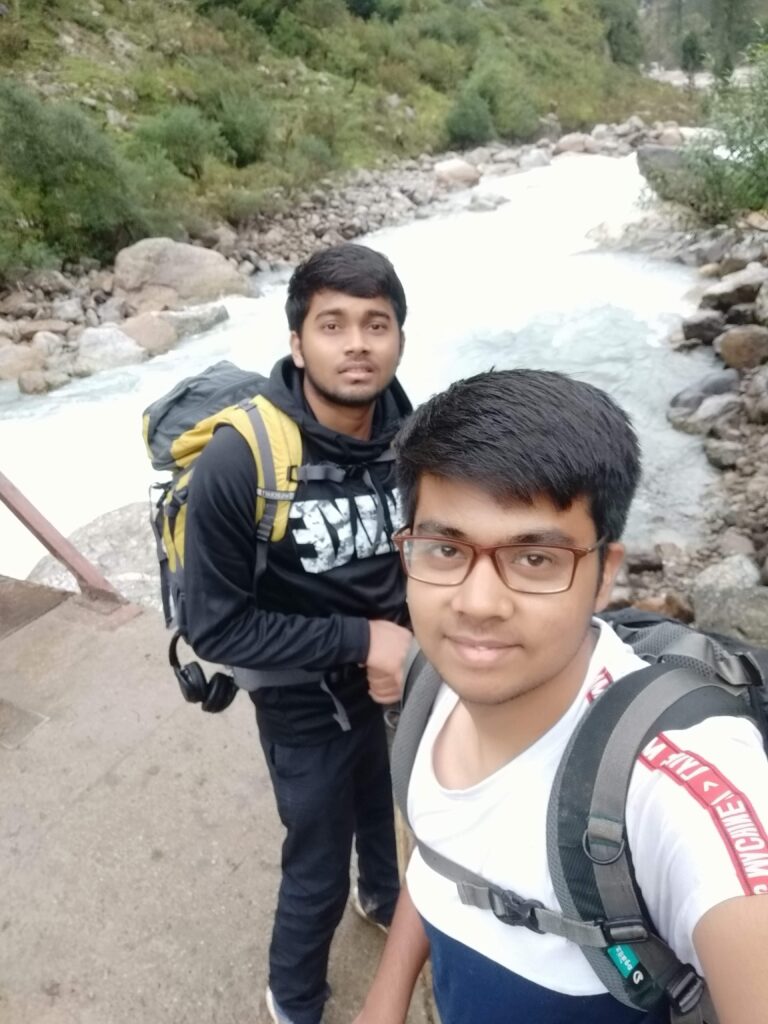 Our story began during a college trip for 14 days with our friends, my trip budget of INR 6000 exhausted soon and had to borrow money (INR 2000) from my friends. After evaluation of total expenses, it was astonishing to know that about INR 1000-1100 went into just buying packaged water bottle i.e. about 17% of our whole trip budget.
But on the same trip, there was always municipality taps nearby but as they have contaminated water and due to lack of any means to get filtered water from those taps it compelled us to continuously buy packaged water bottle.
Due to curiosity, while evaluating the total money expenditure for an individual like us (Students) annually on buying packaged water bottle, the result was quite shocking to us as we spend INR 7000-8000 annually on packaged water bottles during commuting/traveling etc. So a thought came to our mind as to imagine for any individual who works while on go like Truck/Bus/Cab/Taxi drivers, how do they cope with this problem?
Introduction
In India, millions of people commute/travel on an average in a year and in order to quench their thirst either they drink water directly from any water taps (who can't afford to buy packaged water bottle) or buy the only trusted solution present in market i.e. packaged water bottle.
Due to presence of only one solution in market which is used widely, a lot of problem is created as packaged water bottle is a single use product.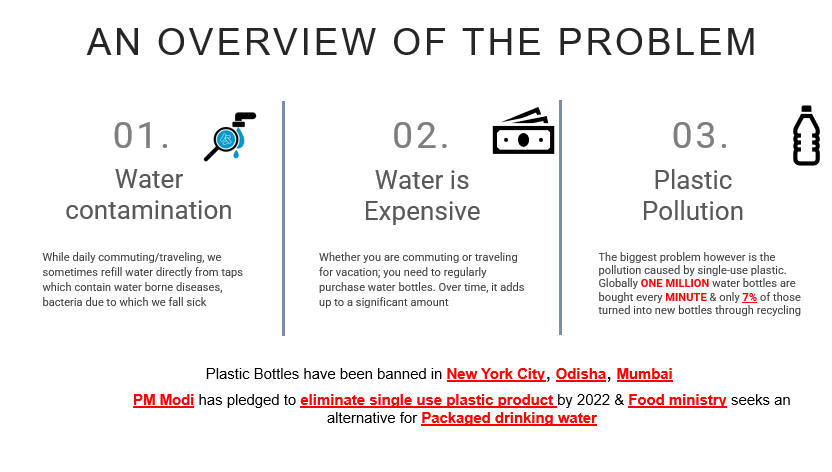 Solution
By seeing the above the problems & initiatives by government around the world, we decided to build a reusable solution which can be used every time while commuting/traveling for getting access to filtered water on go without paying every time.

We designed a bottle which can filter water from any tap water source through its 4 layer filtration system & display the overall TDS of water.
It has 1 liter capacity which is optimal for use while commuting/traveling.
It is reusable solution which helps to save on drinking water expense for commuters/travelers.
Technology Involved: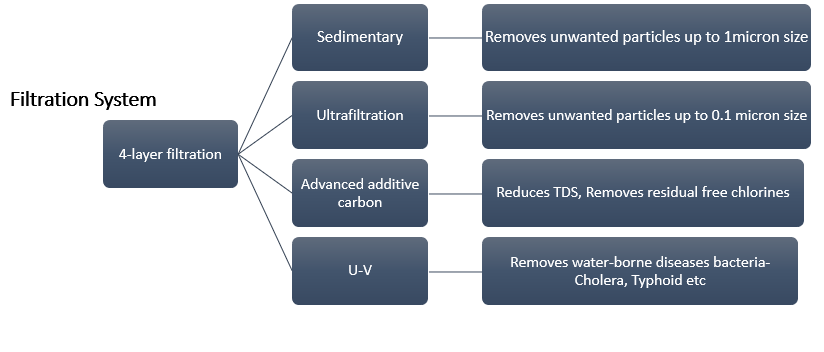 Through 4 layer filtration system in our bottle, one can get last stage filtration solution while on go where heavy metal/mineral ions are removed before hand, so that he can avail filtered water on go without drinking contaminated water or paying for filtered water every time. Our first step will be to patent bottle design after duly experimentation.
Unique selling point
| | |
| --- | --- |
| Access to filtered drinking water everywhere without paying every time. | Saves money on all drinking water expense during commuting/traveling. |
| Safe from water borne disease & certified filter solution by NSF | Bottle patent (design) |
What's happening & next?
To validate our idea and bring into reality, a lot of progress has been made from designing our bottle to building a working model of separated filters layers consisting of Sedimentary, Ultra-Filtration, Activated carbon (Granules and Block), Ultraviolet layer (UV led) for testing it with present water samples for Turbidity, TDS, Residual free chlorine test and build filtration setup for experimentation. Next step is to test the present heavy metal /mineral ions parameter of water contamination in cities like Chennai, Mumbai, Bangalore, Hyderabad and fabricate, experiment with additive metal oxides and ion exchange resins for removing dissolved heavy metals/minerals present.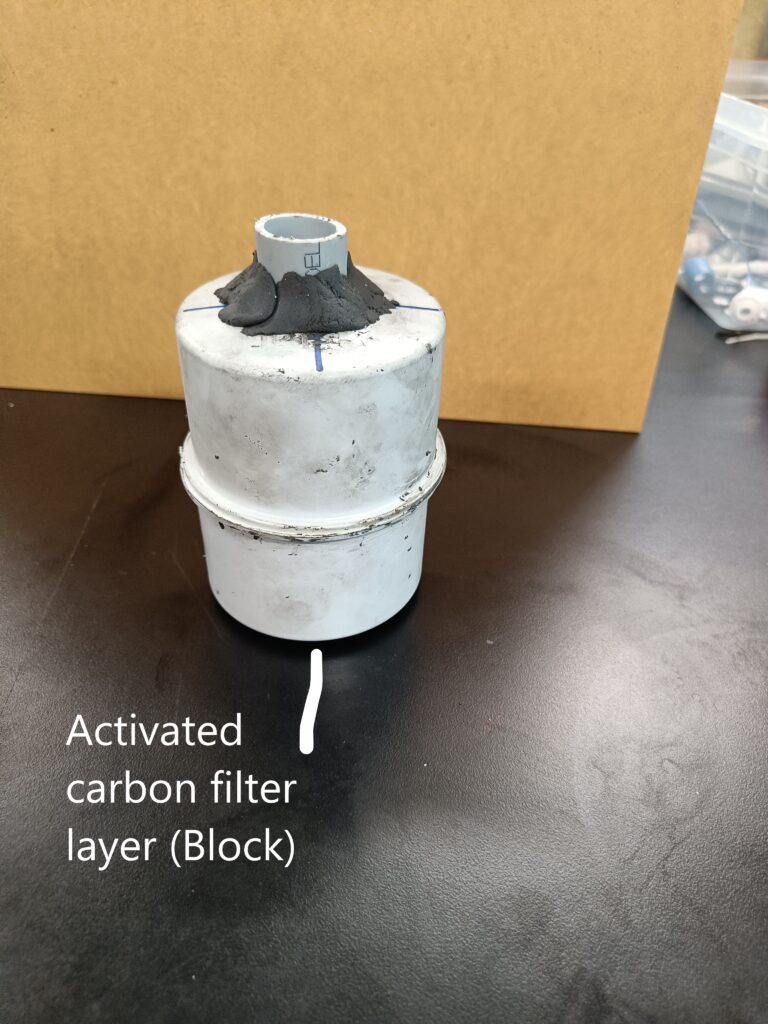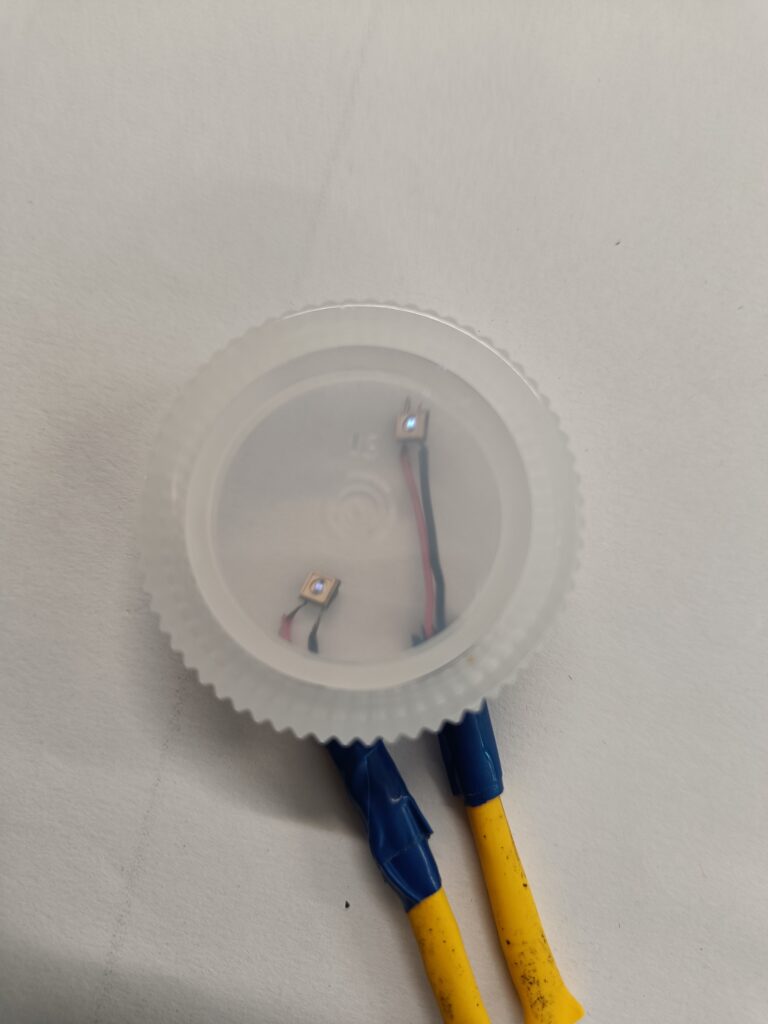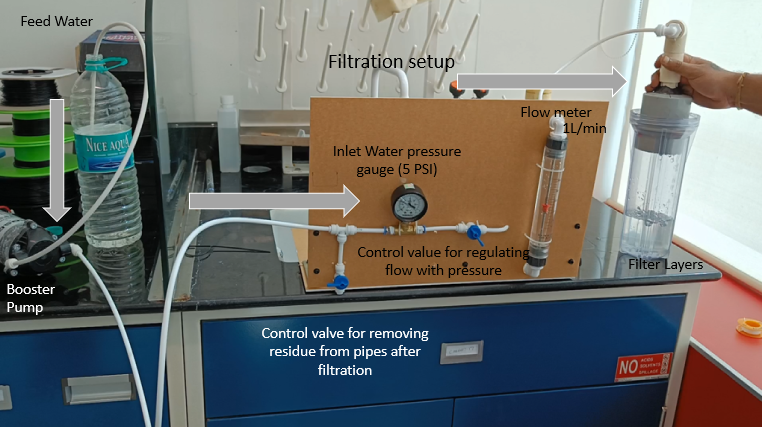 After filter layers testing and experimentation, we plan to manufacture bottle parts through vacuum casting as per our design, assemble it and later do a pilot sale for the below target customer segment.
A rough timeline for milestone to be completed before commercialization.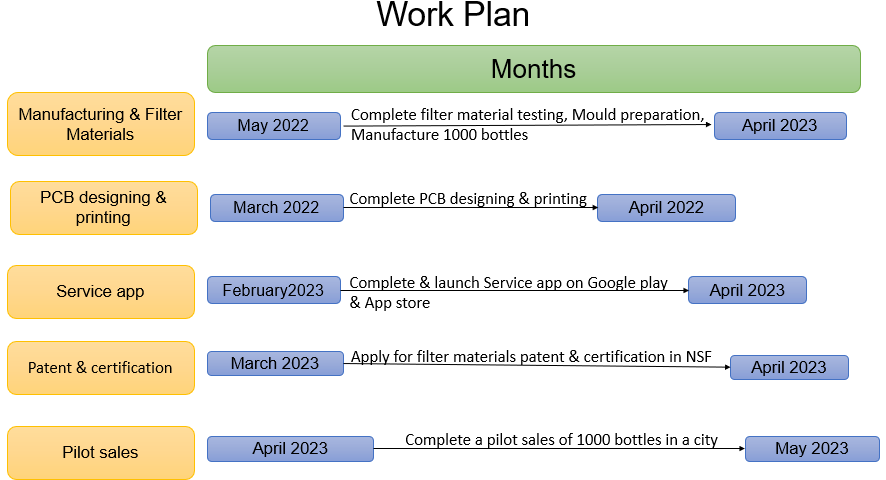 Target Customer Segment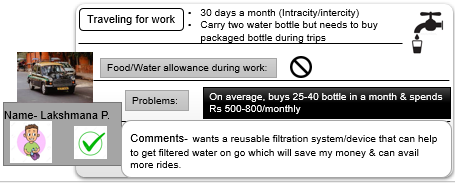 Both Lakshmana P. (Cab driver) & Pratap Singh (Truck driver) earns INR 18,000-22,000/monthly & due to the unavailability of proper drinking water either they fall sick (Diarrhea, Typhoid etc) due to which they lose certain days pay or spend around INR 400-800/monthly (5% of their income) on packaged drinking water bottle.
Impact & future
Our solution can help people like truck/bus/cab/taxi drivers (who don't earn much money to buy packaged bottle everyday) to drink continuous filtered water while working on go from nearby water source like taps while protecting them from water borne diseases and reducing complete dependency on plastic packaged bottle which further reduces plastic pollution in environment thus contributing to 2 of 17 UN Sustainable development goals.
Create a market with revenue model of sunk cost strategy by putting less profit on bottle to attract customers and getting most of profit margin from filter replacement service.
Team
We are a multicultural team of 4 members from BML Munjal University and ICCW (IIT Madras) with multidisciplinary background to work & tackle this complex problem.
Subham Sourabh– B.tech (Mechanical Engineering)
Mareeswaran P.– B.tech (Mechanical Engineering)
Dr. Kaushik N. Ch.– Design & Material expert
Dr. Rajiv Dey– Electronics & Embedded system expert
Helping hands
Many thanks to ICCW (IIT Madras initiative) for hosting and allowing us to develop and test our initial prototype inside their facilities.
Dr. Nandakumar E.– CEO (IICW)
Dr. Abirami– Water expert, Senior scientist (ICCW)
Dr.Kamalesh Chaudhari– Principal Scientist (ICCW)
Dr. Niti Jadeja– Representative of IWA Young Water Professionals, Researcher at ATREE
Contact us
With the plan to help undeserved section of society to get access to filtered water on go, if you are interested in helping us with this idea or just want to know about us, feel free to reach us at:
Subham Sourabh: sk231618@gmail.com
Mareeswaran P.: mareeswaran2021@gmail.com
We are especially looking for assistance in finances, networking & domain expertise in PCB designing.